Handmade Welsh Dragons
Living in North Wales, it made sense to me to have a range of dragons to represent my new home. Obviously, (s)he had to be a red dragon, but the traditional Welsh dragon looked a little fierce to me, so I tried to imagine it as a wee hatchling instead.
So far I've been lucky to see the birth of several different types of Welsh Dragons including :
Dragons on Lovespoons.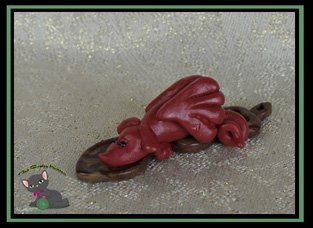 Of course, when you are a tiny dragon just hatched and your wings not strong enough to fly, you have to cling to whatever you can find to stop from falling.
Love Spoons have also been a long tradition in Wales, and so it seemed appropriate to put this little critter on to a love spoon.
Welsh love spoons hold many meanings, depending on the symbols used in them. The carver used the spoon as a way to show his affections when he couldn't find the words to say them.
The Love spoon that my dragon is laying on is a "twin Celtic heart" spoon, which represents love, togetherness, and the fact that they are intertwined suggests that the love is inseparable - which makes this a lovely gift for valentines day, an anniversary, or just as a memento of a visit to the wonderful country that I now call home.
The spoon is made from several different colour polymer clays to mimic a woodgrain, and each dragon has his (or her) own personality, which is born from the snout, the position of the ears, wings and tail and the beads that are used for the eyes.
The whole piece is approximately 3 inches long from one end of the spoon to the other, and approximately 1 inch high from the base of the spoon to the top of the wings.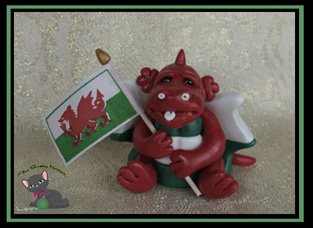 Another dragon in this range is my rather patriotic Flag Dragon, (s)he is based on the same body template as my large dragons, but is in the national colours of Red, Green and White (all with a slightly metallic/glitter finish) and are proudly waving their Welsh Flags as any dragon born in Wales should.
The Flag dragons sit approximately 3 inches from base to head spike.
I tend to have several of each of these dragon ranges in my "stock" at any given time, so they can normally be shipped out within 3 working days after receiving payment. If however you wish to put in a bulk order for them or wish to have them done in different colours, please contact me so that I can work out how long I would need to create the number you require.
Currently, my work is available in my craft and gift shop in Llanrwst and also, across the globe, via mail order (simply fill out my contact form, letting me know what you would like to order, the basic pose you would like, and any specific colours or other instruction you may require), my Facebook page, at various craft shows that I attend around my local area or via my enquiry form to place an order for on of these Welsh dragons.
**Please bear in mind that each of my items is a genuine "one of a kind" and as such, although I will try to replicate any requests as closely as possible, there will be subtle differences between any pictures on the website and the finished product you will receive.**