Fairy Doors
Put one of these doors against the wall either over your mantel piece, skirting board or cupboard, and give easy access to your home for the wee folk.
Fairy Doors are a relatively old idea, and one that I have always loved. To give easy access to your home for the wee folk all you need to do is place one of these doors against an outside wall. Remember though that many animals can see fairies, so if your pet starts to act strangely and begins to scratch or bark at what you think is thin air, please ensure you hold him or her back or distract them, this lets your fairy get to their door safely.
You may wonder why you need a fairy, well they have lots of jobs to do. Everybody knows that fairies collect your teeth when they fall out (did you know that they have to pass exams to do this?), but as well as this they keep your house safe by keeping naughty pixies and bad dreams away. In fact they bring good luck wherever they go.
The Fairy Doors I make come in a large variety of colours and designs, giving an option that will suit any room, in any home.
Each door has hand painted accents with the hinges, handle and where featured "knocker" being painted in gold varnish.
Each Door is approximately 10 cm from "step" to "keystone" and 9 cm wide. They can easily be fixed to the wall using blue or white tack.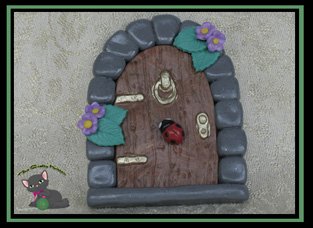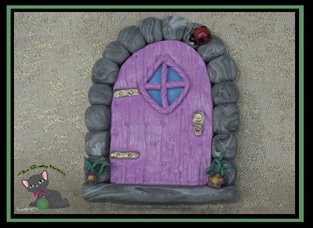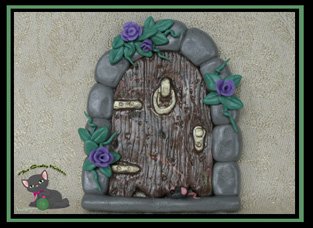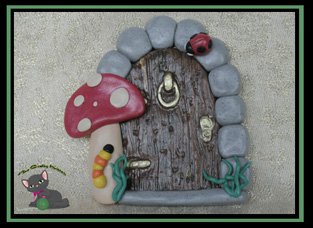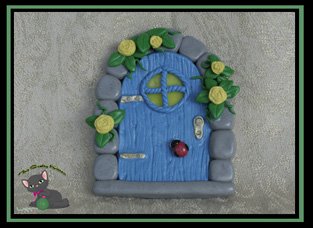 I tend to have a few of these fairy doors in "stock" at any given time, so they can normally be shipped out within 3 working days after receiving payment. If however you wish to have a specific colour scheme, or wish put in a bulk order for them, please contact me so that I can work out how long I would need to create what you require.
**Please bear in mind that each of my items is a genuine "one of a kind" and as such, although I will try to replicate any requests as closely as possible, there will be subtle differences between any pictures on the website and the finished product you will receive.**